WatchGuard Takes the Guesswork Out of Wi-Fi Security With New Cloud-based Secure Wi-Fi Solution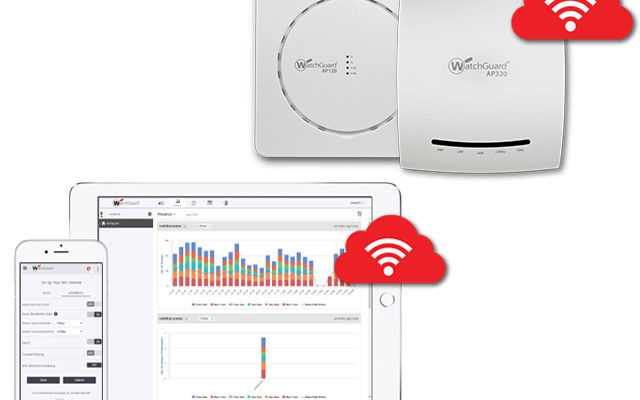 WatchGuard Wi-Fi Cloud connects and protects SMBs and distributed enterprises with fully automated wireless threat prevention and enterprise-grade interactive engagement and analytics features

SEATTLE – October 18, 2016
–
WatchGuard® Technologies
, a leader in advanced network security solutions, today announced the WatchGuard Wi-Fi Cloud, a secure, scalable, and feature-rich Wi-Fi management platform and a new family of high-performance, cloud-ready access points. When deployed together, this next-generation secure wireless solution delivers the industry's most sophisticated wireless intrusion prevention system (WIPS) technology. Additionally, it turns Wi-Fi hot spots into invaluable consumer research, analytics, and push marketing tools. Architected from the ground up to focus on ease of deployment and administration, the WatchGuard Wi-Fi Cloud simplifies even the most complex aspects of Wi-Fi management, making fast, secure, and intelligent Wi-Fi accessible to organizations of all types and sizes.
"Today's savvy businesses realize that safe and reliable Wi-Fi is a basic requirement, but many SMBs and distributed enterprise organizations struggle to deliver it. We've developed a comprehensive solution that dramatically simplifies how businesses deploy and manage wireless, while at the same time elevating Wi-Fi security standards," said Ryan Orsi, director of wireless products at WatchGuard. "In addition to security, the WatchGuard Wi-Fi Cloud makes it easier for organizations to turn Wi-Fi into an extension of their brand, an interactive experience for their customers, and a powerful analytics tool."
WIRELESS SECURITY 
Most traditional wireless network management solutions fail to stop rogue devices from connecting to their networks or block threats like wireless denial-of-service attacks. If they have a WIPS, it delivers a high rate of false positives, incorrectly categorizing neighboring hotspots and innocuously connected devices as malicious, which creates unnecessary frustration and end-user complaints.
WatchGuard Wi-Fi Cloud enables IT pros to deliver high-quality wireless performance, while ensuring consistent security policies across all connected devices, even at remote locations. The patented WIPS technology built into WatchGuard's new cloud-ready APs (AP120 and AP320) automatically classifies wireless devices as Authorized, Rogue, or External, resulting in a very low false positive rate. This advanced rogue detection process can safely and automatically shut down unauthorized access points and clients, while nearly eliminating the risk of illegally interfering with neighboring wireless networks.
In addition to automatically detecting and disabling rogue wireless devices and attacks, WatchGuard's industry-leading WIPS also provides customers with:
Secure Bring Your Own Device (BYOD) Policy Enforcement – automatically identifies on-network smart devices and blocks unapproved connections.
Accurate Location Tracking – pinpoints the location of connected wireless devices or sources of interference, enabling administrators to quickly take action.
Flexible Deployment – deployable in configurations to meet any security need. It can be installed as an overlay on top of an existing WLAN infrastructure or as a stand-alone enforcement system for Wi-Fi prohibited zones.
WIPS + WATCHGUARD'S NETWORK SECURITY SERVICES
Together, WatchGuard's patented WIPS technology and the company's award-winning network security services provide the most complete and effective solution for securing Wi-Fi. Customers can easily and cost effectively run all of their wireless network traffic through one of WatchGuard's award-winning network security appliances, thereby providing the same AV, IPS, web filtering, spam blocking, application control, APT blocking, data loss prevention, and reputation lookup techniques to wireless traffic. This protects them against malware planting, eavesdropping and data theft, and prevents inappropriate or illegal use of their network.
INTERACTIVE ENGAGEMENT AND ANALYTICS
The Wi-Fi Cloud provides visibility into a goldmine of marketing data, including insights into footfall and customer demographics visualized on customizable dashboards. Organizations can easily monetize these insights by tapping into the mobile engagement features, which allow direct and customized communication with individual customers in the form of SMS, MMS, and their social network of choice. WatchGuard Wi-Fi Cloud management features also include:
Custom Splash Pages and Social Wi-Fi Engagement – captive portals allow businesses to personalize customer Wi-Fi experiences by offering promotional opportunities, surveys, and strong authentication through Facebook, Twitter, LinkedIn, Instagram and other social applications.
Mobile Engagement – delivers custom messages to customers via SMS, MMS, and social networks, based on predefined triggers including user interaction and length of time on-network.
Wi-Fi Analytics – data is collected via passive scans, active scans and user connections in and around your Wi-Fi networks. Analyzes and conceptualizes this data to provide insight into traffic patterns, behavior, and demographics of your Wi-Fi users, in addition to generating a visual map of foot traffic patterns on a floor plan.
"There is a strong demand among our customers for widely deployable, cloud-enabled solutions, and we are excited to add WatchGuard Wi-Fi Cloud to our portfolio," said Ian Kilpatrick, director at Wick Hill. "This new Wi-Fi cloud functionality expands our ability to sell more to existing customers, and to reach brand new customers. Additionally, Firebox and Wi-Fi Cloud installations will increase partners' service revenues. This represents a big win for everyone."
ADDITIONAL RESOURCES:
WatchGuard Wi-Fi Cloud subscriptions, along with the AP120 and AP320 are available now. Customers can purchase them as a stand-alone solution, or as part of a holistic configuration that routes traffic through a Firebox or XTM appliance, to extend best-in-class security services like APT Blocker, WebBlocker, and Gateway AntiVirus into their wireless environments. For more information, visit https://www.watchguard.com/wifi.