FortiSandbox 2000E Earns Coveted NSS Recommended in Latest Breach Detection System Public Test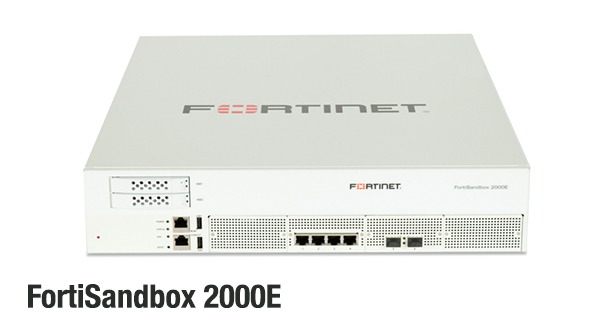 Fortinet participated in the NSS Labs 2017 Breach Detection System (BDS) group test and was awarded a Recommended rating for its latest FortiSandbox 2000E appliance introduced in the second half of 2017.  The FortiSandbox 2000E was built to meet the demands of mid to enterprise businesses. FortiSandbox 2000E detected 100% of the malware delivered through both web and email, achieved overall 99% Breach Detection Rate at the lowest TCO of $16 per protected Mbps. FortiSandbox is recommended for the fourth consecutive year and is a testament to Fortinet's commitment to independent testing, adding to the existing NSS Labs Recommended NGFW, DCFW, WAF, DCIPS and AEP awards.
The Evolving Ransomware Landscape
Ransomware continues to gain notoriety in 2017, hoping to beat last year's estimated $1B damages in the US alone. As ransomware's business model continues to thrive and be lucrative, it comes as no surprise the motivation of asking for a ransom evolved from simply blocking internet resources to locking systems to encrypting systems to its newest form – destroying systems.  Equip the intent of cyber attackers with the latest distribution mechanism of a worm-like behaviour on top of existing phishing email and malvertisements, have raised the stakes higher for organisations worldwide from all verticals and of all sizes in defending against these threats.
Sandbox is a Must
Sandbox is purpose built to identify zero-day, advanced malware including Ransomware, and generate relevant threat intelligence. Sandbox like ransomware has evolved its role as well by serving as a central intelligence hub within a security infrastructure, distributing the latest threat information across various protection points to respond to new threats. Two critical factors – the efficacy of sandbox detection and Total Cost of Ownership (TCO), will help accelerate as well as lower the barrier for organisations to adopt advanced threat protection to combat these new threats.
The Importance of Third-party Testing
NSS Labs is an independent test house that publishes its test methodology publically and all vendor participants are tested fairly based this methodology. This unbiased test report is important to both business decision makers and security operators as they make an informed decision based on a solution's security and cost effectiveness. This aligns with the core belief at Fortinet to build the best in class product and independent testing provides the best validation of this.
The Results Speaks For Itself
FortiSandbox-2000E is an appliance form factor introduced in the second half of 2017 to meet the demands of advanced threat protection for mid-sized business and enterprises. Bearing Fortinet's philosophy of providing the best to its customers, FortiSandbox-2000E was submitted to NSS Labs for rigorous BDS testing.
FortiSandbox-2000E NSS Labs BDS Result Highlights:
Detection Efficacy and Accuracy: Achieved 99% overall breach detection rate with superior accuracy at less than 0.1% false positive.
Web and Email attacks: Detected 100% of malware delivered via web and email.
Network Performance: Rated at 8.6 Gbps per NSS test throughput that is more than 2x datasheet claimed throughput of 4 Gbps.
Total Value: Lowest TCO of the solutions tested.
NSS Rating: FortiSandbox Recommended by NSS Labs, four years in a row.  This accolade adds to following NSS Recommended awards for Fortinet's NGFW, DCFW, WAF, DCIPS and AEP solution.
The Appointed Time for Considering a Sandbox Is Now
On average, Sandboxes have improved in breach detection efficacy as well as detection accuracy in the latest BDS test, making it very, very difficult for malware to get a foothold in an organisation. Combine this with improved TCO year over year, the choice is clear – now is the time to seriously consider adding sandbox to secure your organisation against cyber threats including ransomware.
Read Fortinet's announcement on NSS Labs 2017 BDS Test here. You can download the NSS Labs 2017 BDS SVM and accompanying full report here. If you would like to learn more regarding Fortinet's approach to solving ransomware, click here to watch this on-demand webinar.