Fortinet Again Recognized by Gartner as an Enterprise Firewall Magic Quadrant Leader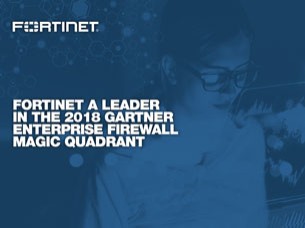 Today's digital businesses require unprecedented access to data and the ability to adapt quickly to consumer demands. To achieve this, they are extending their network ecosystems by combining traditional core networks and data centers with multi-cloud environments. Securing these extended networks requires high performance encrypted traffic inspection and seamless policy enforcement to ensure consistent protection. This constantly evolving set of networked ecosystems, smart enduser and IoT devices, and rapidly developed, deployed, and updated applications requires security solutions that go beyond the traditional set of technologies commonly deployed by enterprises.
Because security needs to span the entire enterprise, organizations can no longer afford for even the most sophisticated next-generation firewall (NGFW) solutions to exist in a vacuum. Instead, securing today's distributed resources requires sophisticated, real-time collaboration between security, network, access, and endpoint solutions to correlate threat intelligence and identify threats, and integrated collaboration between those resources to launch a coordinated and comprehensive response to those threats.
An Enterprise Firewall MQ Leader
Fortinet's commitment to innovation and integration goes far beyond our wide portfolio of market-leading solutions and industry-leading number of certifications and patents. We have also consistently challenged the traditional concepts of network security by focusing on a holistic approach that allows organizations to deploy a single, integrated solution across their entire distributed network, including mobile users and devices, branch offices, central campuses, data centers, internal network segments, and multi-cloud ecosystems.
We believe those efforts have resulted in our recognition again in the latest Gartner Enterprise Firewall Magic Quadrant report. The report for 2018identifies Fortinet for our completeness of vision, as well as the ability to execute.
A Future-Proof Solution
Fortinet's FortiGate Enterprise Firewalls are engineered to not only deliver superior next-generation firewall (NGFW) capabilities, but also provide a future-proof solution that can adapt as network environments evolve. For example, encrypted data and transactions now comprise more than half of all network traffic to securely move information between distributed network environments. To support this growing trend, FortiGate delivers the highest SSL performance in the industry and supports industry-mandated ciphers for secure cloud access.
Securing Distributed Networks Starts with Deep Integration
Another critical component of Fortinet's integrated Security Fabric solution is FortiOS, a universal security operating system that spans a wide variety of security solutions for fast and integrated management, orchestration, and span of control. Fortinet has also developed the highest performing security processors in the industry, have integrated advanced sandbox functionality into our NGFW solutions, designed Security Fabric Connectors that automate deep integration with third-party security solutions, and built the largest threat intelligence infrastructure on the planet that leverages the most advanced artificial intelligence technologies available. This combination of innovations allows enterprise IT teams to centralize management and orchestration, correlate threat intelligence, identify known and unknown vulnerabilities and threats, and automatically deliver an integrated and coordinated response to attacks in real-time regardless of where they occur.
The Most Valued Security Brand in the Industry
In addition to having again been recognized by Gartner as an Enterprise Firewall MQ leader, we believe Fortinet is also the most certified security vendor in the industry, earning a record nine unique NSS Labs recommendations in the last year alone. According to IDC, Fortinet has shipped more units over the past five years.
FortiGate's success, however, goes beyond mere industry recognition. Fortinet's Enterprise Firewall customers across 16 different industries have also provided close to 900 product reviews, with nearly 500 of them perfect five stars, on Gartner Peer Insights—nearly twice as many as the next two vendors. This unprecedented level of enthusiastic customer support has also earned Fortinet recognition as a 2018 Gartner Peer Insights Customers' Choice for Enterprise Network Firewalls, a designation of which we are especially proud as it comes from those individuals and organizations tasked with protecting their networks from the growing threat of cyberattack.
Security is the linchpin for today's digital transformation efforts. Securing today's increasingly complex networks, however, requires integrating traditionally isolated security devices across the extended and constantly changing network. Mobile users and smart devices, remote offices, multi-cloud environments, IoT adoption, and web-based applications and services require security to function as a single, holistic solution. Because of its broad portfolio, commitment to constant innovation, and sensitivity to bottom-line concerns, Fortinet continues to demonstrate its commitment to meeting the needs of today's evolving digital marketplace through the ongoing development of its market-leading Security Fabric solutions strategy.