Sophos Helps Partners to Simplify Wi-Fi Protection with Addition of Sophos Wireless to the Sophos Central Management Platform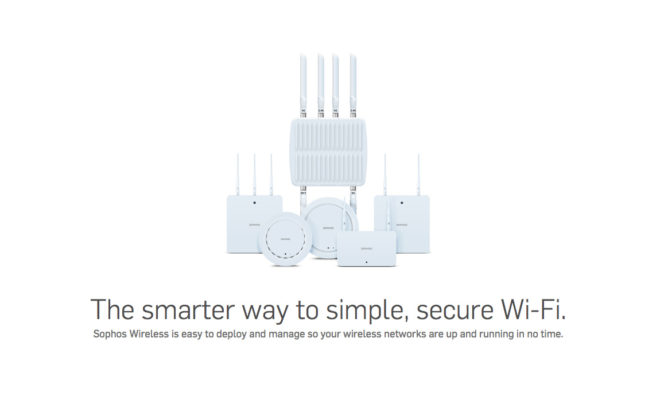 OXFORD, U.K., July 26, 2016 – Sophos (LSE: SOPH), a global leader in network and endpoint security, today announced the availability of Sophos Wireless, its first cloud-based solution for the protection and management of wireless networks. Managed through the Sophos Central platform, Sophos customers and partners can now secure and manage wireless networking in a single console alongside their Sophos endpoint, mobile, web and server protection.
According to Nolan Greene, a senior research analyst from IDC's Network Infrastructure group, the cloud-managed Wi-Fi market continues to be among the fastest growing sub-segments of the Wi-Fi market as many organizations realize its power to enable the benefits of working with mobility in a wireless device-centric world. "Unified wired and wireless management and security are also becoming more important in ensuring quality of user and manager experience, security, visibility, and compliance on the cloud-managed network. These trends lead to tremendous opportunities for value-added resellers and MSPs to respond rapidly to their customers' changing wireless network needs," he said.
"Today, there are very few businesses that do not provide a wireless network to allow employees or visitors to stay connected and the management of those networks is critical to maintaining an organization's IT security," commented Bryan Barney, senior vice president and general manager of Sophos Network Security Group. "By adding the management of Sophos Wireless to Sophos Central we're helping our partners simplify better network protection and quickly expand the services they offer to customers. The cloud-based platform enables Sophos to release feature updates every three weeks meaning Sophos Wireless benefits from constant advancement to stay ahead of the latest threats."
James Lyne, head of global security research at Sophos knows that many organizations are failing to adequately protect their networks. "Our war-biking research into the state of wireless network security showed that very few wireless networks adhered to security best practices and some were using protocols so ancient that attackers could break into their networks in seconds. Once in, an attacker could read, intercept and even alter the traffic across the network, and from there it would not take them long to find a way into the corporate network to launch further attacks," he added.
Sophos Wireless uses the proven range of Sophos Access Points which can also be managed on-premise via Sophos SG UTM and XG Firewall, key features for wireless setup and control include:
At-a-glance dashboard with network and client connectivity data
Traffic usage insights based upon Web categorization
Easy multi-site management and setup
Visual network planner and Google Maps integration
"This is a great step forward in simplicity for partners managing customer security or networks," said Dan Russell, chief information officer at Pine Cove Consulting. "Offering customers the choice of on-premise appliance or cloud-based wireless management significantly eases the administrative burden for my business and allows me to offer services to customers who are not yet ready to replace their existing UTM or Firewall but need to upgrade their wireless network protection. This simple install and remote management through the Sophos Central-Partner dashboard allows me to introduce Sophos to protect the network seamlessly."
The specialized partner dashboard allows partners and managed service providers (MSPs) to manage and configure wireless settings, distributes licenses, add new customers and provides a real-time perspective on all customer activity. The single pane of glass dashboard also shows all Sophos Central services their customers subscribe to making cross and upsell opportunities clear and helping partners drive recurring revenue.
Sophos sells exclusively through its channel of more than 20,000 resellers worldwide and is dedicated to the growth and success of partners. As part of the new program and Sophos' "channel first, channel only" business strategy, the company offers partners sales consulting training and certification, co-branded marketing assets, 24/7 support and in-depth Sophos Central dashboard training to help build the skills and expertise of its partners.
If you are looking to purchase in the APAC region, why not try – http://www.firewalls4now.com.au/sophos.html