Fortinet Recognized as a Challenger in the First Gartner WAN Edge MQ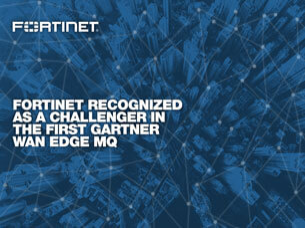 The Gartner Magic Quadrant for WAN Edge Infrastructure was just released and we believe our placement as the challenger with furthest completion of vision is the result of our recent strategic motions and product innovations. This is the first ever WAN Edge MQ and Fortinet has landed on the line between challengers and leaders with a focus on providing best-of-breed networking and security capabilities to enterprise branches globally.
Evolution of WAN Edge Infrastrucure from Routers to Application-Aware SD-WAN
Digital transformation has not only redistributed networks across cloud environments, but it has also made those connections highly dynamic and often temporary. As a result, one of the most rapidly growing network market segments is providing agile and cost-effective alternatives to MPLS for today's next-gen branch offices.
SD-WAN has emerged as a top consideration for organizations looking to take advantage of the efficiencies and agility that networks require and helps enterprises quickly realize business goals tied to digital business demands, such as improved employee productivity, reduced operating expenses, and simplified operations.
The rapid adoption of the cloud demands that modern enterprise branches be more agile and flexible. As the market for branch office network functionality shifts from dedicated routing and WAN optimization appliances to SD-WAN and vCPE platforms, WAN Edge infrastructure needs to incorporate a widening set of network functions, including traditional routing functionality, WAN path control, and WAN optimization, as well as integrated firewalls, deep inspection of encrypted traffic, and secure routing.
Security is a crucial SD-WAN differentiator
Fortinet believes that one of the reasons for our being added to this year's MQ report is our commitment to integrated security as an essential component of our SD-WAN solutions. Despite the rise in cybercrime and network breaches that originate in the branch office, SD-WAN security is only addressed by most vendors as an afterthought. Data shows that the failure to provide fully integrated and seamless protection to an SD-WAN solution results in either the introduction of significant risk, or forces the consumer to integrate security solutions by hand. These often include an entirely separate management system and related overhead expenses to compensate for the lack of security provided by the vendor. Unfortunately, these hidden costs are often unseen until after an SD-WAN solution has been selected.
To realize the actual benefits of digital transformation, enterprises must upgrade their current WAN infrastructure with a solution that's reliable, scalable, and secure. This is where Fortinet excels. Fortinet SD-WAN includes all of the advanced SD-WAN capabilities that organizations require, including application steering, automated WAN path control, and zero-touch provisioning. The difference is that because we have built Fortinet's Secure SD-WAN solutions directly into the FortiGate Next-Generation Firewall, we have also seamlessly woven both networking and security into a single SD-WAN solution.
Fortinet's integrated network and security approach is ideal for new and existing customers
The FortiGate NGFW's install base of more than 3 million devices can be made SD-WAN ready with just a software upgrade. For our over 360,000 existing FortiGate customers, SD-WAN functionality just needs a software upgrade for them to use it. But even for those organizations without an existing FortiGate solution in place, Fortinet's single-pane-of-glass management system empowers them to manage and monitor both their SD-WAN networking and security from a single centralized console. Fortinet extends the concept of single-pane-of-glass to include the branch, going from SD-WAN to SD-Branch. It also provides the ability to manage WLAN and Ethernet switches, as well as zero-touch provisioning to quickly set up new branches with little expertise and no additional overhead is crucial.
Fortinet's unique approach to SD-WAN further simplifies day-to-day operations by automating manual tasks. It enables enterprises to translate high-level business policies into application and user-level policies that can be globally distributed to all devices with little effort. Automation is interleaved into the core components of SD-WAN – new application signatures are updated on a daily basis to ensure that customers have visibility into the latest applications,  intelligent WAN path control to dynamically choose the best WAN path, and zero- touch provisioning to bring up a new SD-WAN device.
But unlike other SD-WAN solutions, in addition to that robust set of SD-WAN functionalities, Fortinet also provides organizations with the ability to seamlessly inspect SSL-encrypted SD-WAN traffic for malware, detect malware attacks using IPS, URL filtering, antivirus, and sandboxing, and integrate that strategy with their existing network-wide security infrastructure.
Summing up
The SD-WAN market is not only growing rapidly, but it is also becoming increasingly crowded. While its rapid market growth underscores the need to transition to an SD-WAN strategy, it also makes choosing an SD-WAN vendor increasingly tricky. This is where third-party reports like Gartner's Wan Edge Infrastructure report, and NSS Labs' recent side-by-side comparison of SD-WAN solutions play an essential role in the market, allowing you to shortlist the right set of vendors for quick proofs-of-concept.