Meraki – INTRODUCING THE EARLY ACCESS DEVELOPER PROGRAM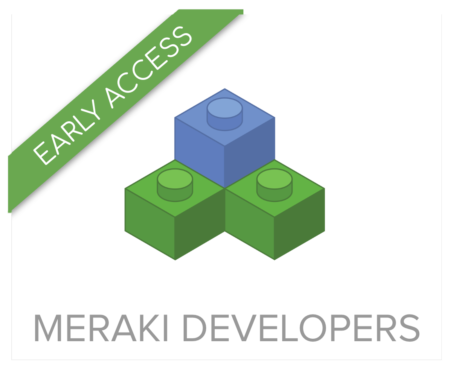 An opportunity to test-drive and discuss the latest Meraki APIs, including v1 of our Dashboard API
When Cisco Meraki released V0 of our Dashboard API in 2017, we recognized that a fundamental technology shift was on the horizon. Network programmability through APIs has since rapidly matured to become an integral part of a network engineer's toolset, and a key innovation strategy for SaaS providers around the world. Earlier this year, the Cisco Learning Network in partnership with DevNet further cemented network programmability as mainstream by announcing a comprehensive Developer Certification track, packed full of programming fundamentals and APIs from Meraki and the rest of Cisco's extensible technology offerings.
As Product Manager of our API and Developer Platform, it has been incredible to watch this transition take shape with our customers, partners and developers over just a few short years. We're seeing consistent double-digit growth in active API users of our REST API, which has become a deep and essential part of our platform offering. From powerful python-based network orchestration at scale, to beautiful open-source visualization clients, to complete mobile applications, we continue to be delighted by the innovative solutions being shared every day by developers across our ecosystem via our open-source and turnkey marketplace collections. One thing's certain – our API platform strategy is resonating with users, and we are just getting started!
In fact, in addition to producing a continuous stream of new APIs for getting data into and out of our cloud platform, we're also hard at work building out V1, the next major release of our Dashboard API, slated for General Availability (GA) in Spring 2020….but we need your help! A vital part of any API-provider's lifecycle begins with a trusted community of developers to test, discuss and provide real-world feedback and we're therefore incredibly excited to announce the new Meraki Early Access Developer Program. 
Interested? Read on!
This new program will offer a select group of developers the opportunity to help shape the future direction of our APIs by test-driving and providing regular feedback on new versions and features before they get released to the general public, beginning with alpha access to V1 of our REST API. If you are interested in applying, please visit our Developer Hub and complete the application.
We are excited to get the conversation started, and as always you can find us in the Meraki Community. Happy coding!