Gartner Peer Insights for Enterprise Firewalls: See What Healthcare Leaders Are Saying About Fortinet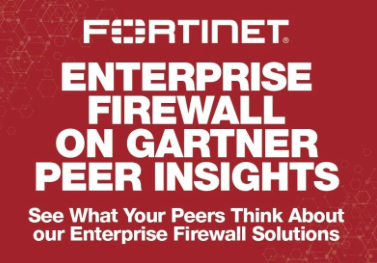 The healthcare industry requires technology that can keep pace with the speed at which medicine is evolving in order to provide patients with the best possible care. Additionally, this technology must meet HIPAA compliance standards to secure protected health information (PHI) from the growing number cyberattacks targeting the healthcare industry. This comes at a time when more devices than ever are accessing healthcare providers' networks, including the proliferation of connected medical devices in the Internet of Medical Things (IoMT), and through bring your own device policies that allow devices from both healthcare professionals and patients to access network resources.
Fortinet provides the healthcare industry with security tools that are designed to keep patient information secure without slowing down physicians and hospital staff in the process. With Next Generation Firewalls, United Threat Management, sandboxing, secure access points, switches and more, our goal is to keep hospitals seamlessly secure.
We have been excited to read the many positive reviews from Fortinet users in the healthcare field posted on Gartner Peer Insights that show our efforts have paid off.
Gartner Peer Insights provides a platform for IT professionals across industries to review their experiences with various solutions, helping taking the guesswork out of selecting technology for their industry peers. Fortinet currently has nearly 700 reviews* posted, across a range of products.
Below are some of the enthusiastic comments Fortinet customers in the healthcare sector have posted regarding their experience with Fortinet solutions and support during and following implementation.
"Working with Fortinet for 10+ years in various roles has proven an amazing track record for the agility their products bring to the table. From their hardware stability to innovative FortiOS, Fortinet has given us the ability to provide a safer Internet experience for our members and users alike. Our project was a complete over haul from the current FortiGate devices, the account team was a tremendous help from start to finish. They were able to guide us from selecting the right FortiGate for our various environments while at the same time providing cost-effective security and support features. The implementation was a breeze with Fortinet's ability to migrate the older configuration to the new OS with minimal repercussions. I am completely satisfied with the outcome of our continued success with Fortinet."
"This is a great product. It has already paid dividends on threats it has caught."
"The FortiGate firewall has specific features which were needed to support our [AWS] cloud design. We were already a Fortinet customer prior to developing our virtual private cloud architecture, so it made sense to evaluate the FortiGate firewall for its compatibility with our proposed network design. Within the last year, we have been assigned a new Fortinet account team, who been very responsive to our questions and concerns regarding new deployments and upgrades for both on premise and AWS cloud deployments, so we're happy about that."
"We have worked with the Vendor and Reseller over several years implementing Fortinet technology. During that time, we have had highly successful fault tolerant infrastructure. Support at all times has been of the highest quality."
"The vendor was very engaged and I felt a strong partnership with them."
"Excellent. We needed to provide multiple networks and VLANs throughout our existing managed switches and WIFI network. We chose a FortiGate 100D, which enabled us to have a primary and secondary internet link installed direct to the device as well. Now, if we need to setup a new VLAN to provide internet access, we can do so with ease. We've also setup the primary internet connection to be shared to two different VLANs – with one (for Doctors) getting 80% of the available bandwidth and the remaining 20% for guest WIFI. Since installing, we have been able to configure our BMS system and others to use this link – all done via the FortiGate. The team at BlueConnections have been fantastic with their support. The onboarding process was incredibly straightforward for us – I don't know how they did it as the old vendor left very little information to assist. We could not be happier with both BlueConnections or FortiGate sales/support."
"The hardware is very solid. Firewalls have been in place for over 3 years now with little to no downtime. Very satisfied with the product and high-level support from Fortinet."
"FortiGate firewalls have permitted us to achieve significant risk mitigation and technology refresh while improving visibility, and reducing cost. Vendor has significant local and regional support that is comparatively easy to engage. VARs have supplemental resources to assure continuity and improve experience."
"Implementation was very successful and mostly seamless. Fortinet did an excellent job in creating a path to deployment and retiring of old hardware."
"Product implementation and configuration was easy and transparent to the users. Fortinet tech support was very helpful and knowledgeable."
"Fortinet allowed us consolidate security services. Easy management and integration with a high performance."
We are proud to offer a set of products and a support team that has been so helpful to, and so well received by, the healthcare community. We encourage IT professionals searching for new solutions to consult Gartner Peer Insights to better understand how different products perform in the unique healthcare environment.