Barracuda named a Sept. 2019 Gartner Peer Insights Customers' Choice for Email Security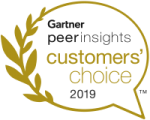 Ratings based on product capabilities, evaluation and contracting, integration and deployment, service and support, and customers' willingness to recommend
Campbell, Calif. — (October 24, 2019) — Barracuda, a trusted partner and leading provider for cloud-enabled security solutions, today announced that it has been recognized in the Gartner Peer Insights 'Voice of the Customer' Email Security Market. Barracuda recently received a Sept. 2019 Gartner Peer Insights Customers' Choice for Email Security and an Overall Rating of 4.4 out of 5, based on 67 reviews, as of 31 Aug. 2019.
According to Gartner, "These reviews give insight into not only how satisfied existing customers are with a vendor's product, but also their experience in negotiating with the vendor, getting support for the product or service and their overall implementation effort. This information can provide you with a firsthand view on what to expect from a particular vendor." 1
Barracuda delivers an email protection portfolio that helps secure organizations against email-borne threats through a multi-layered approach that combines email-filtering, spam blocking, encryption, archiving, and backup, with AI-based spear phishing protection, automated incident response, and security awareness training.
"With 95 percent of all attacks on enterprise networks resulting from successful phishing attacks, email protection remains a pressing issue for organizations of all sizes as modern threats continue to evolve rapidly," said Don MacLennan, SVP, Email Protection, Engineering and Product Management, Barracuda. "We believe being recognized as a Gartner Peer Insights Customers' Choice for Email Security illustrates how effectively we are meeting our customers' email protection needs and helping them defend against these types of threats."
Here's a look at what customers are saying about Barracuda's email protection solutions:
"Great company and great products."
— Sr. Solutions Engineer in the Services Industry
— Executive Director in the Services Industry
"The suite of software provided makes for a great email toolkit."
— Sr System Administrator in the Services Industry
Download a complimentary copy of Gartner Peer Insights 'Voice of the Customer': Email Security: https://www.barracuda.com/voc