Sophos Launches Next Generation of Anti-Exploit and Anti-Ransomware Technology With Sophos Intercept X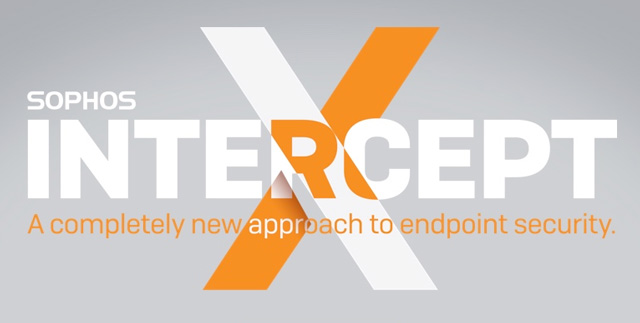 OXFORD, U.K., September 15, 2016 – Sophos (LSE: SOPH), a global leader in network and endpoint security, today announced Sophos Intercept X, a next-generation endpoint security product that stops zero-day malware, unknown exploit variants and stealth attacks, and includes an advanced anti-ransomware feature that can detect previously unknown ransomware within seconds. Sophos Intercept X installs alongside existing endpoint security software from any vendor, immediately boosting endpoint protection by stopping malicious code before it executes.
Sophos Intercept X combines four critical security components that IT administrators should expect from next-generation endpoint protection.
"Sophos is a next-generation security company that has stayed at the forefront of the industry by understanding the threat landscape, changing business needs and customer challenges. Using big data analytics along with our deep understanding of threat patterns, attack vectors and criminal motivations, we designed Intercept X from the ground up to recognize malicious behaviors and stop potential attacks much sooner in the kill-chain, without the need for updates or signatures," said Dan Schiappa, senior vice president of the Enduser Security Group at Sophos. "IT professionals know that there is no single equation that stops all attacks, so we developed Intercept X to combine several techniques for faster identification and response that are coordinated to better support IT professionals without the need for specialized security staff."
Developed as a core component of Sophos' synchronized security strategy, Sophos Intercept X is enabled with the Security Heartbeat to share threat intelligence with Sophos' next generation XG Firewall and SafeGuard Encryption solutions for a coordinated and automated response to attack. The product can be installed and managed remotely through the Sophos Central cloud-based management console that allows administrators to control and configure settings, distribute licenses, add new endpoints and track all activity. In addition, the single pane of glass dashboard designed for Sophos partners shows all Sophos Central services available to provide higher levels of customer protection while offering partners additional recurring revenue opportunities.
Tony Palmer, senior Lab analyst at ESG commented, "According to ESG research, many organizations have extensively adopted advanced prevention products, such as next-gen antivirus and even more are planning to ease their way into advanced detection and response. Unfortunately, many enterprises simply lack the right level of security analytics skills or staff to perform these tasks effectually, thanks to a global, problematic shortage of cybersecurity skills. With Intercept X Sophos looks to provide a fast-track to achieving advanced protection and response capabilities while minimizing the need for specialized security consultants to administer it. In ESG Lab's opinion, Sophos Intercept X has made excellent progress closing many of the endpoint security gaps that still exist for organizations worldwide."
Customers and partners who participated in the public beta program experienced the next-generation protection capabilities of Sophos Intercept X, including the ability to help to eliminate the impact of ransomware by almost immediately recognizing and stopping malicious encryption activity and preventing the attack from spreading across the network. Once the threat is neutralized, affected files can be rolled back to the pre-attack state, saving considerable time, resources and money.
"Installing Sophos Intercept X alongside existing endpoint protection is a no-brainer. Under the beta program we deployed Intercept X to more than 2,000 endpoints spanning more than 70 customer networks. To date we see that Intercept has stopped more than 18 new ransomware attacks and since deploying we've had zero ransomware infections on our clients' networks. We can't imagine the mess these attacks could have caused for our clients. Sophos Intercept X is a must have for any business challenged by different ransomware variants and other threats on a daily basis," said Emily Adams, IT security analyst at Flexible Systems, a Sophos Partner based in Hauppauge, New York.
Bob Appleby of PA Computer Connections, a US-based Sophos Partner, commented, "Installing Sophos Intercept X alongside existing endpoint protection is simple and effective. Having tested the product during the beta program we have found that it blocks threats faster and provides comprehensive and straightforward analysis of an attack, accelerating the time from first infection to remediation. This product significantly advances protection for customers with any flavor of endpoint protection currently in place."
Emile Belcourt of Globelink, a UK-based Sophos partner said, "Intercept X represents the next generation of all-in-one protection for the endpoints of tomorrow. It has been one of the most seamless deployments and transitions that I have experienced, and the visibility it gives me into what my click-happy users are doing and how they keep getting infected has been without equal. I'm really excited at being able to share Intercept X with the over-worked IT managers I encounter in businesses today. It will make their lives easier and free up their valuable time to do the really important jobs without constantly worrying about the need to monitor what is happening. I'm also looking forward to seeing how Intercept X will continue to develop to keep us in step with the incredibly smart malware out there, but at a price that's accessible to everyone."
James Miller, managing director of Foursys, a UK-based Sophos partner said, "Our technical team trialed Intercept X the day it was available in beta. Everyone is worried about ransomware, so Intercept X will be additional defense for our customers who use Sophos Central and are keen to bullet proof their protection by adding an extra layer of next-generation threat and exploit detection. With signatureless threat and exploit detection, Sophos' innovative anti-ransomware solution and Root Cause Analysis all in one product, Sophos is again simplifying what has previously been a complex and difficult process – and that's what makes Intercept X really unique."
Sophos Intercept X is available to order today and a free trial is available through the Sophos Intercept X webpage. Please visit www.sophos.com or contact a Sophos Gold Partner for more details.