WatchGuard Firebox T30 Awarded Five-Star Ratings in Both US and UK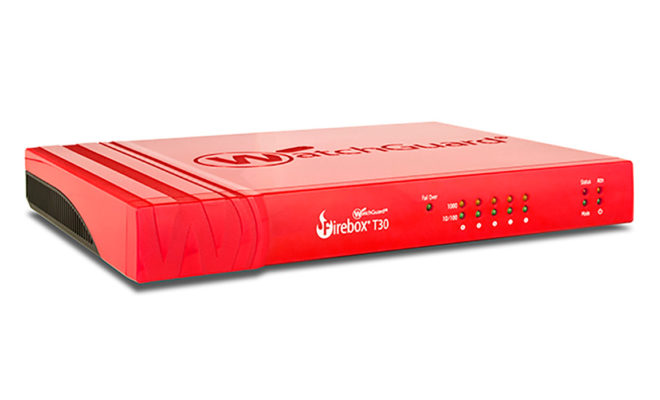 The company's UTM appliance recognised for delivering big box functionality that's easy to deploy and manage for SMBs and distributed enterprises
WatchGuard® Technologies, a leader in multi-function integrated security appliances, today announced the WatchGuard Firebox T30 Unified Threat Management (UTM) appliance has been given the highest possible rating of five-stars by both SC Magazine and IT Pro UK in recently published tests.
IT Pro called the Firebox T30 a "highly recommended security solution for growing small and medium-sized businesses, with powerful performance and a sensible price." SC Magazine agreed, saying, "If you are an SMB, you really need to give this a close look. At this price you hardly can go wrong as it has a lot of big box functionality."
"SMBs and distributed enterprises need enterprise-grade security that can be managed without a full time IT staff," said Brendan Patterson, director of product management for WatchGuard. "This is why we've consolidated critical network and security functions into a single, centrally managed platform. We make our solutions easy to deploy, easy to manage and generally accessible to companies of all sizes. These reviews are great validation for the value we're delivering to our end users to help them protect their networks."
As with all of WatchGuard's UTM appliances, the T30 includes access to the company's unique,RapidDeploy feature, which enables centralized IT teams to pre-configure appliances for quick and non-technical installation at distributed remote sites. This feature is ideal for retailers, hospitality chains, healthcare co-ops and other distributed enterprises.
Access to Dimension, the company's award-winning actionable threat intelligence platform, also comes standard with all WatchGuard appliances. Dimension aggregates data from across a customer's network and translates that data into visually rich and actionable information. Customers can easily see not only what is going on across their network, but quickly and proactively take steps to update security policies in real-time to stop malicious sites, applications and users – all from the reporting dashboards.
Offered as both a wired and a wireless solution, the WatchGuard Firebox T30 provides high-performance, enterprise-grade network security to small- and medium-sized organizations and distributed enterprises alike. Features include:
Enhanced firewall speeds up to 1.2 Gbps and UTM security speeds up to 165 Mbps to enable modern encryption and usage trends
A Power over Ethernet (PoE) port that allows the painless deployment of technology like access points or security cameras
Faster, more reliable Wi-Fi with the latest 802.11ac wireless standard
For complete product information on the T30 and its counterpart the T50, click here. To compare appliances and learn what Firebox is right for your business, click here. To see a comprehensive list of WatchGuard awards, click here.