WatchGuard Releases Firebox T70 Network Security Appliance, Fastest Full UTM Tabletop in the Industry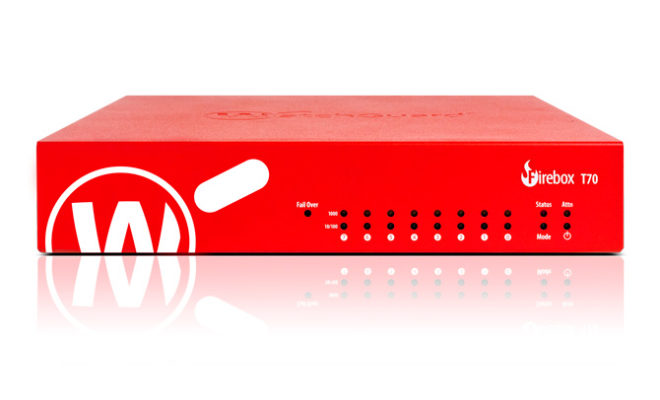 New WatchGuard Firebox T70 Tabletop Security Appliance Speeds Past Competition with Over 1 Gbps UTM Throughput
SEATTLE – October 4, 2016
–
WatchGuard® Technologies
, a leader in advanced network security solutions, today announced its newest hardware appliance, the Firebox T70, which has set a new standard for tabletop performance. According to Miercom, an independent testing lab, the T70 delivers the fastest throughput available in the industry today, with speeds over 1 Gbps when operating in full Unified Threat Management (UTM) mode. Customers no longer have to compromise between network bandwidth or leveraging the UTM security services they need to protect their network; with the T70, they can have it all.
The T70 tabletop network security appliance allows customers to enjoy the fast throughput that they want, with the industry-leading security that they need. Miercom found that the T70 achieves over 1 Gbps throughput in full UTM mode, which is 52 percent higher than the average competitor appliance tested, and 38 percent higher than the next competitor. Even today's environment of heavy HTTPS traffic isn't enough to stop the T70, so network users and administrators can rest assured that they are always getting the full benefit of all of WatchGuard's security services.
KEY FEATURES:
Performance: Customers benefit from the highest speeds and performance levels available in a tabletop security appliance, with over 1 Gbps throughput with full UTM protection enabled.
Power over Ethernet (PoE): Using the two PoE+ ports to power peripheral devices, such as wireless access points, network administrators can extend the reach of their networks without having to run costly AC power to remote devices.
RapidDeploy: Centralized IT teams can use RapidDeploy to pre-configure appliances for quick and non-technical installations at distributed locations.
Full UTM Protection for Fiber Broadband: Organizations can benefit from fiber broadband services, such as Google Fiber, knowing the T70 can easily manage these expanding speeds.
SUPPORTING QUOTES:
Andrew Evers, Group IT Manager at Red Carnation Hotels: "The T70 provides the highest levels of performance and capability I've seen in such a small unit. I can now deploy the same enterprise-grade security services across our entire organization, whether in a small office, or at larger sites. The T70 delivers a small footprint, allowing for a good amount of diversification and growth, before needing to trade-up. Ultimately, this solution represents a valued addition to the WatchGuard family because it hardens security, enables automation for my team and creates greater flexibility and enablement for my users."
Rob Smithers, CEO, Miercom: "Overall, the WatchGuard Firebox T70 exhibited the best overall throughput performance of the competitive security appliances tested.  In addition, while competitors' performance was greatly reduced as more security functions and features were enabled, the WatchGuard Firebox T70's continued to prove exceptional performance,"
Andrew Young, Vice President of Product Management at WatchGuard Technologies: "Organizations today require fast, reliable and secure Internet connectivity, but are struggling to find network security solutions that can keep up with their ever-growing needs. This challenge is further exacerbated by the growing availability of fiber broadband around the world. The WatchGuard T70 is ideal for small and midsize businesses or distributed enterprises that need the highest performance available in a tabletop security appliance. The blazing fast performance of the T70 will make network slowdown concerns a thing of the past."
ADDITIONAL RESOURCES: