Six Sophos executives named in 2018 CRN Channel Chiefs list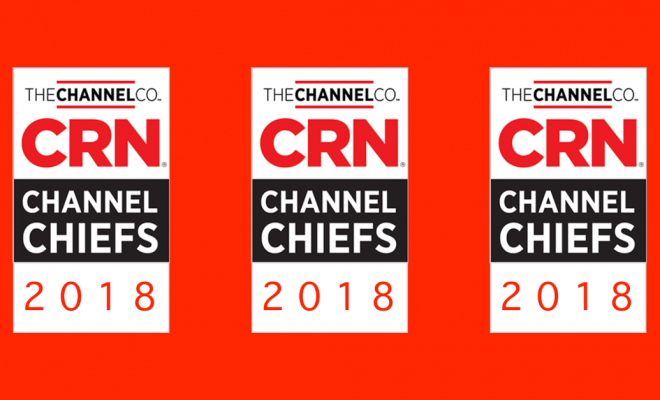 It's a huge honor to be named on the annual CRN Channel Chiefs list.
It's a huge honor to be named on the annual CRN Channel Chiefs list – and Sophos is proud to announce that not one but six of our executives made the list this year.
Executives named to this annual list represent the top leaders in the IT channel. They excel at driving growth and revenue in their organization through channel partners.
"The executives on CRN's 2018 Channel Chiefs list stand out for their exceptional leadership, vision and commitment to the channel," said Robert Faletra, Executive Chairman of The Channel Company. "These individuals deserve special recognition for their development and support of robust partner programs, innovative business strategy and significant contribution to the overall health of a vigorously growing channel. We applaud each Channel Chief's impressive record of accomplishments and look forward to their future successes."
Sophos is represented in this year's list by the following executives:
Michael Valentine, senior vice president of worldwide sales
Kendra Krause, vice president of global channels
John Keenan, vice president, Americas
Erin Malone, vice president of North America channel sales
Scott Barlow, vice president of global MSP sales
Allison Clarke, director, global channel sales programs
This is Mike Valentine's third consecutive year on the list of honorees, and Kendra Krause's second consecutive year.
Each of this year's honorees are recognized for their dedication to the success of Sophos partners. It's been an incredible year for our programs and product launches, including the Sophos Cloud Security Provider Program, a first of its kind in the industry; the Channel Influence Community, which enables greater communication and feedback between Sophos and its partners; Sophos XG Firewall with its powerful visibility and control; and the unique abilities to prevent ransomware and exploits with the launch of Intercept X.
Channel Chief honorees are chosen by CRN's editorial staff based on professional achievements, standing in the industry, dedication to the channel partner community, and strategies for driving future growth and innovation. They've proven their support for the IT channel by promoting, defending, and executing outstanding channel partner programs.
You can find the complete 2018 CRN Channel Chiefs list, including the 50 Most Influential Channel Chiefs, in the February issue of CRN as well as online at www.crn.com/channelchiefs.