Fortinet A Premier Sponsor of AT&T's Inaugural 'The Summit' Event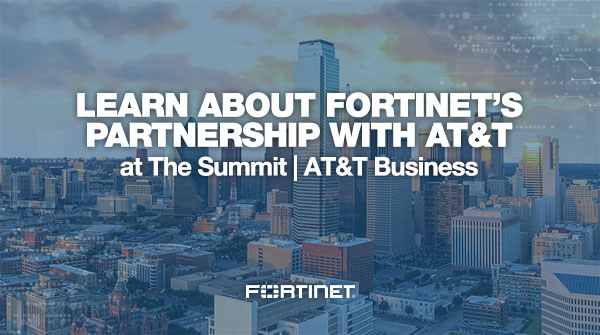 Fortinet is a Premier Sponsor of The Summit, the inaugural AT&T Business event that is bringing together 2500 thought leaders, influencers, and customers for three days to be inspired and informed about the future of technology and how it impacts the world. This premiere event is being held from October 30-November 2, 2017 at the Gaylord Texan Resort in Dallas, Texas.
Fortinet is also proud to announce that several of our key executives will be participating in a panel entitled, "Winning the Security Battle for Your Enterprise Requires a New Approach."
The panel will be held on Wednesday, November 1, from 2:00-2:45pm and will discuss the evolution of network security and its changing role as a critical enabler of the emerging digital economy. Executives and boards of directors are stewards of three separate but interconnected elements of an organisation – the business itself, customer data, and shareholder interests. In the new digital economy, a data compromise can have a devastating impact on the business and shareholders.
The Fortinet Security Fabric' seamless, automated, and tightly-integrated approach provides a much-needed evolution in security. Our collection of highly-sought after panelists will discuss this and other essential changes. They include Ken Xie, Fortinet's Founder, Chairman of the Board, and Chief Executive Officer, Phil Quade, Fortinet's Chief Information Security Officer, and Matt Paull, who is the Senior Director of Technology Management for Best Western Hotels & Resorts. Michael Daniel, the President of the Cyber Threat Alliance, will moderate the session.
We will also be part of the Innovation Showcase, where we will be providing a hands-on look at some our latest technology advances, including our award-winning Fortinet Security Fabric, which provides a framework for tomorrow's advanced Intent-Based Network Security and serves as the backbone for the integrated collaboration and automated operations required for securing today's expanding and highly elastic network ecosystems, including IoT, mobile users, and multi-cloud environments.
We are proud of our proven track record of delivering and deploying complex security solutions with AT&T during our decade as partners. The level of integration enabled across our suite of solutions enables AT&T and other MSSPs to provide superior network security solutions to their end customers across a number of platforms, including virtual, cloud based, and physical environments.
We are excited about the opportunity to highlight the unique value of the AT&T and Fortinet partnership at The Summit, and to showcase the range of network security solutions available to enterprise customers across all industries to combat today's increasingly sophisticated threat landscape. If you will be attending The Summit this year, please plan to attend the Fortinet panel and drop by our booth on the Innovations Showcase floor.
Hear more from Fortinet. Save the Date! Accelerate 2018 Fortinet's global event for customers and partners. Register now: http://ftnt.net/2i2sgRC