FortiGate Intrusion Prevention Continues to Excel in NSS Labs' NGIPS Testing Results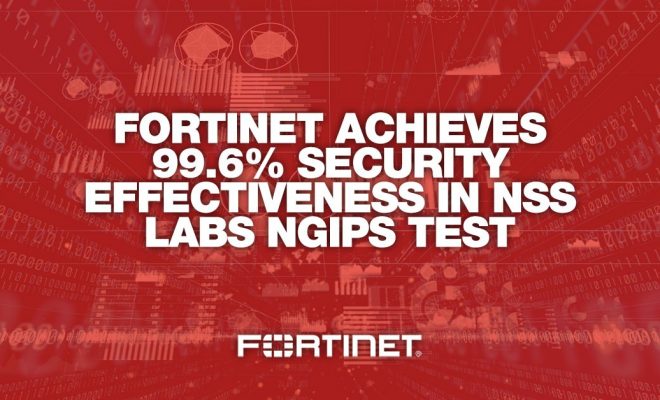 Malicious Intrusions Transform—and So Does FortiGate IPS Remediation
Cybercrime continues to grow at an alarming pace. Looking at a baseline of data helps puts this in perspective. For example, while the number of data records breached in 2010 was about 4 million,  according to Dark Reading, a record-smashing total of 7.89 billion information records were compromised in 2017.
Part of the reason for this spike in successful attacks is that the sophistication of malware is outpacing the development of effective security counter-measures. And it is certainly overwhelming legacy systems that have been in place for years. According to the most recent Fortinet Threat Landscape Report, there has been a steady increase in the volume of new malware and their unique variants, W32/Injector, for example, captured four of the top five malware variant spots and secured the lead position on the prevalence scale for the entire quarter. Most of the offending variants in that family are related to Loki and Fareit, a class of information-stealing Trojans capable of harvesting credentials from browsers, FTP clients, email clients as well as bitcoin wallets.
Defending networks and their critical resources needs to include advanced threat detection and mitigation capabilities, with Intrusion Prevention Systems (IPS) playing a critical linchpin role in an enterprise's security strategy. But to be effective, IPS systems should not be forced to operate in isolation, whether as a siloed stand-alone box or as part of an isolated security platform.
To be truly effective, IPS systems need to be integrated into a broader security fabric that spans the extended network and that can dynamically adapt as that network reacts to changing business requirements. This is the only approach that is able to provide organizations with the real-time visibility they need to protect the users, devices, endpoints, and applications deployed across the distributed and elastic network of physical and virtual ecosystems.
This is exactly our approach with FortiGate IPS, which serves as a critical component of the Fortinet Security Fabric.
NSS Labs Gives Coveted "Recommended" Rating for FortiGate IPS
Fortinet takes industry evaluations seriously, and we were very pleased when NSS Labs rated our Fortinet FortiGate IPS solutions as "Recommended" in their fourth Next Generation Intrusion Prevention System (NGIPS) Test report and Security Value Map.
For organizations concerned with preventing network breaches, the FortiGate IPS is a solution you should seriously consider. Let's take a look at some of the findings from this year's NSS Labs report.
To begin, the NSS Labs NGIPS test is tough, encompassing more types and methods of attack and evasion than any other IPS test we've seen. And in that environment, FortiGate IPS 3000D achieved 99.6% Exploit Block Rate while blocking 100% of all evasions thrown at it. Security isn't only about power, which Fortinet solutions have in spades. It is also about being able to detect and thwart even the most sophisticated threats, and then do that at digital speeds.
FortiGate IPS: Consistent Performance
If this sounds a little too good to be true, there are solid reasons behind the FortiGate IPS solution's outstanding performance. The most important of which is that Fortinet simply continues to out-innovate its competition.
The Fortinet engineering team, for example, has engineered custom silicon-based security processors for the FortiGate line of security appliancesand integrated them in a unique parallel processing architecture to speed deep and thorough traffic inspection, intrusion detection and prevention. Specifically, Fortinet's network processors accelerate assembly and normalization, while our content processors speed content inspection and decryption.
This level of innovation is simply unmatched in the industry. Architecting these elements to perform packet processing, policy management, and content inspection in parallel not only results in unmatched raw performance, but it also gives our designers plenty of headroom to keep the FortiGate IPS product line at the forefront of the industry for years to come.
For an IPS investor, consistent performance over the years is the most important element to track, and Fortinet is proud of the fact that we have consistently received the highest NSS Labs ratings. In today's increasingly dangerous cyberenvironment, organizations should be constantly tracking and evaluating the effectiveness of their deployed security solutions, and opting to make a transition when vendor loyalty may actually lead to increased risk.
Fortinet Continues to be a Trusted Solution Provider in the IPS Market
Fortinet customers continue to put their trust in our innovative IPS technologies. And in head-to-head comparisons, our unique value proposition and capabilities mean we continue to win.
For example, a multi-national conglomerate and an industrial manufacturer—an existing Fortinet customer—recently selected FortiGate IPS in order to reap additional security benefits resulting from its seamless integration with the Fortinet Security Fabric.
A large Telecommunications provider in Latin America seeking greater flexibility and very high performance, likewise recently elected to use FortiGate IPS to replace their longstanding traditional IPS products. Stories like this are becoming more and more common as organizations see the advantages that Fortinet's IPS brings to them in terms of power, performance, efficiency, and total cost of ownership.
While we're clearly gaining ground in the IPS marketplace, it's been a quiet, steady rise as our continuous innovation has established a foothold in customer confidence in Fortinet's IPS technologies. While we may not be taking the world by storm yet, we have been stealthily delighting customers with outstanding performance and highly rated effectiveness, combined with a compelling total cost of ownership. These advantages are clearly making a name for Fortinet in the IPS arena—not to mention helping organizations protect their systems and information from bad actors around the globe.
For more information on the NSS Labs Test Report and Security Value Map, download a copy today.