FortiGate 60F: The Top NGFW with SD-WAN Now Accelerated by a Purpose-Built Security Processor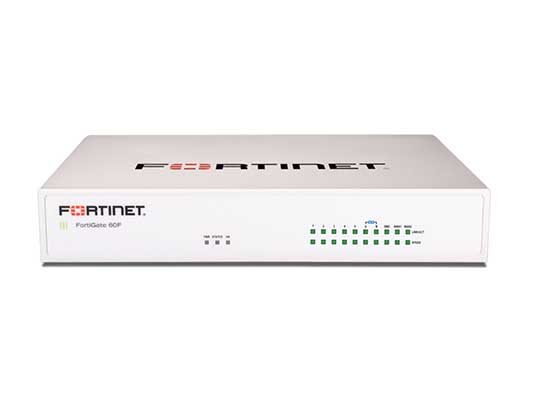 Performance is central to all business development and digital innovation. Faster access to data, support for performance-hungry business applications, and the ability to process vast amounts of data all require high performance solutions able to provide critical solutions at digital business speeds. And all major advances in performance start with the development of new, purpose-built hardware designed to support and accelerate applications, workflows, and transactions.
Nearly every major manufacturer and service provider understands this maxim. Apple's new A13 Bionic chip, for example, has been designed to deliver the best graphics and user experience to customers. Likewise, Tesla's new self-driving chip has been designed to deliver 21X more performance than its previous Nvidia chip to better handle the growing volume of data being provided by the car's integrated sensors. Organizations like Google, Apple, and Facebook have all also developed their own custom processors to support things like their data centers and cloud services.
One of the biggest challenges many organizations now face is that their security solutions are quickly becoming their network's bottleneck, especially as the volume of encrypted data continue to grow. In fact, according to a FortiGuard Labs report, 87% of all web traffic is now encrypted. And with the exception of Fortinet, all security still relies on common, off-the-shelf CPUs to power their security devices – which is why firewalls, for example, drop to their knees when it comes to trying to decrypt and inspect encrypted traffic. It's so bad, in fact, that most security vendors won't even publish their encrypted traffic inspection performance numbers.
Fortinet has been the lone security vendor to reject the reliance on chips that were never designed to deliver high-end security processing. With 20 years of focused ASIC development experience, we have now released the new SOC4 (system on chip) security processor, a purpose-built silicon chip that enables unified routing, security, and SD-WAN functions that sets yet another security performance benchmark for the industry. As a result, Fortinet's new FortiGate 60F Next-Generation Firewall is now the world's fastest and most powerful full-featured desktop SD-WAN appliance in the industry, and at the absolute best price/performance – enabling any organization to affordably implement true WAN edge transformation that can keep up with the highest demands of today's distributed networks and business applications.
Introducing the FortiGate 60F SD-WAN Appliance
The FortiGate 60 series is the highest selling next-generation firewall on the market, with over 1.5 million units shipped worldwide. This is the form factor that customers and partners have been successfully deploying across their distributed enterprises for over 15 years. And with this latest release, Fortinet is providing a new generation of this beloved product line that also includes the addition of one of our most innovative features to date: a full-featured SD-WAN and NGFW solution powered by the new SOC4 security processor to accelerate and enhance cloud and WAN connectivity.
Setting A New "Security Compute Rating" Benchmark for the Industry
To highlight the difference that purpose-built processors can provide, we developed the Security Compute Rating benchmark that compares the performance of Fortinet's ASIC-based next-generation firewall appliance to other NGFW and SD-WAN vendors that utilize generic CPUs for networking and security capabilities.
The industry average is computed by calculating the average of leading solutions, including listed vendors as well as others. Performance numbers are based on each vendor's datasheets, and N/A reflects that the vendor, as mentioned above, chooses to not publish certain critical performance specifications, such as SSL inspection. As a result, the calculated industry average may actually be much lower.
The FortiGate 60F powered by Fortinet's latest SOC4 security processor enables the following Security Compute Ratings:
The New King of the Secure SD-WAN Market
This new release is especially timely, as digital innovation and rapid cloud adoption are changing the face of today's business. This has created significant challenges for organizations that have relied on a WAN router and MPLS circuit for their branch connectivity, resulting in poor user experience and diminished productivity due to increasing network bandwidth constraints and growing security concerns.
The challenge is that most SD-WAN solutions treat security as an afterthought, and the result is increased risk and serious performance bottlenecks – especially when imposing high-processing requirements like inspecting encrypted data or securing latency-sensitive business applications.
What they need is Secure SD-WAN. The new FortiGate 60F Next-Generation Firewall consolidates SD-WAN, advanced routing, and advanced security capabilities into a single appliance, coupled with zero-touch provisioning that enables network leaders to deploy Secure SD-WAN quickly and easily. It also reduces complexity and overhead by consolidating an array of traditional point products into a single offering. This integrated strategy allows high performance and improved user experience at an optimal total cost of ownership. The FortiGate 60F includes:
Best-in-class application steering, giving visibility to all traffic (even if encrypted) without impacting performance, while ensuring all critical applications are routed to their best path. This helps organizations achieve optimal quality of experience for their business critical traffic (be it SaaS, multi-cloud, or unified communications.)
FortiGate 60F leverages next generation Security-Driven Networking principles – powered by Fortinet's patented SOC4 SD-WAN ASIC — to deliver the industry's fastest deep inspection of SSL/TLS encrypted traffic (including the industry's first support for TLS 1.3) at 750Mbps. The FortiGate 60F also offers comprehensive threat protection with NG Firewall, IPS, application control, antivirus and anti-malware, and web filtering at 700Mbps – advanced security functionality that enables organizations to protect their network without impacting performance.
In addition to securing today's complex WAN connections, the Fortinet 60F Secure SD-WAN appliance also lays the groundwork for network leaders to seamlessly extend their WAN security into the local branch LAN through a single console. Secure SD-Branch extends the FortiGate 60F's security functionality to ensure secure access through wireless and switch-based access points, as well as to secure locally deployed endpoint and IoT devices through rigorous access control and ongoing threat monitoring.
Fortinet's Secure SD-WAN is Changing the Industry
Fortinet is committed to delivering Secure SD-WAN without compromising on either security or performance. And the industry is taking notice. Recent industry accolades include our being positioning among the top three vendors in worldwide market share for SD-WAN equipment by revenue in 2Q19, showing a 234% quarter-over-quarter growth rate. Fortinet Secure SD-WAN is also backed by third party validation, receiving two consecutive "recommended" ratings in the NSS Labs SD-WAN Group Test Reports. It's clear that Fortinet has the right approach to SD-WAN, and with today's introduction of the FortiGate 60F, we are continuing to lead the industry with new and innovative products to truly transform our customers' WAN edge.