WatchGuard Announces APAC Partner Awards 2016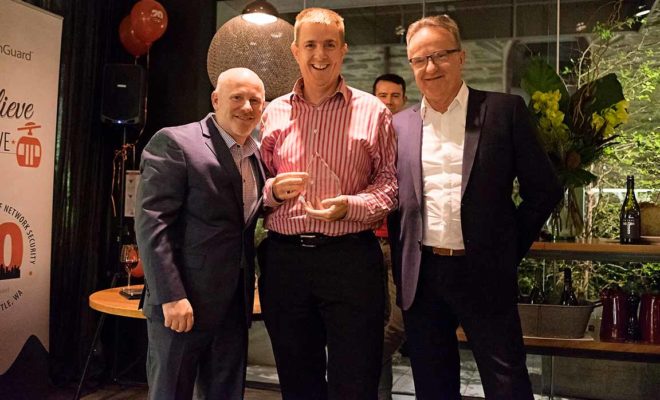 WatchGuard Technologies, a leader in multi-function firewalls, has announced its best performing Australian and New Zealand business partners at the company's annual partner conference staged this year in Queenstown, New Zealand.
More than 40 WatchGuard partners attended the annual event which included seminar sessions aimed at both technical and business audiences as well as networking dinners and activities. The event was co-sponsored by WatchGuard's ANZ Distributors Dicker Data and Exclusive Networks (Australia) and exeed Pty Ltd (New Zealand).
The forum provided attendees with an overview of the latest developments in global cyber security issues as well as in-depth opportunities for discussion and feedback on the company's recent product innovations.
The partner awards were announced as part of the event's gala dinner evening which featured dinner at one of New Zealand's top restaurants, Rata Dining.
David Higgins, ANZ Regional Director, WatchGuard Technologies, said, "The awards are a testament to our partners' success in servicing the requirements of corporate and public sector demand for the feature rich WatchGuard security solutions. At the same time, it gives us great pleasure to recognise and reward the commitment and support of all our partners who played a major role in the company's sales growth and performance across the region in 2015."
The 2016 partner awards recognise channel partners that have met specific certification and partner program requirements in addition to their revenue performance. The Founding Partner award was newly introduced this year to recognise WatchGuard ANZ's longest standing partner that is still achieving strong results in 2016.
And the winners are!
Distributor of the Year – Dicker Data won based on its performance.
Partner of the Year and Top Gold Partner of the Year – Systemnet based on the company's net financial contribution through sales of WatchGuard solutions in the last financial year and participation in the WatchGuardONE channel program.
Top Deal of 2015 – Sydney-based AKCS won based on its work with the New South Wales Cancer Council.
Founding Partner – Melbourne-based Solutions Plus Australia.
New Partner of the Year – Brisbane-headquartered specialist IT supplier, Shiloh Marketing Services who run the online brand – www.firewalls4now.com.au
Partner of the Year for Most Innovative Growth – Elmtree, a complete IT hardware, software, telecommunication, and service supplier.
Top Silver Partner 2015 – Melbourne-based Think Technology.