The Value of Fortinet Products in Education: Customer Reviews in Gartner Peer Insights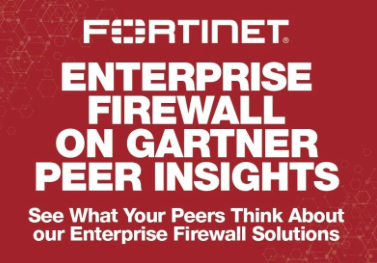 Technology has become a staple in the classroom. Teachers are incorporating blended learning curriculums that encourage students to use online resources to learn, while students rely on devices to research, study, and perform school tasks such as homework or collaborative projects. The use of technology in the classroom has had positive effects for students and teachers, facilitating communication and independence.
However, implementing it is not an easy task. Schools have to make sure they have the bandwidth to withstand the increased number of endpoints requesting access to the network, especially as students are now bringing multiple devices to campus. They additionally have to make sure they have a strong network security protocol in place to protect the personally identifiable information of their student and faculty. Finally, they have to ensure they have the technology in place to comply with CIPA requirements.
An unfortunate part of this digital evolution is that educational institutions have also become one of the biggest targets for cyberattacks, including ransomware. This means that security protocols need to be updated to meet recent threats, and strategies and solutions need to be put in place to thwart increasingly sophisticated attacks and determined criminals. All of this can seriously strain limited IT resources.
Because technology in education is no longer an option, it's a necessity, our goal at Fortinet is to ensure that schools have the technology infrastructure they need to meet compliance, keep their students and staff secure, and provide ease of use and management for IT teams – and for the best price/performance in the industry.
We are proud of the positive feedback we have received from education IT professionals on Gartner Peer Insights, which we believe demonstrate that for many schools and school districts, we have achieved this goal.
Gartner Peer Insights gives IT professionals a forum on which to review and seek advice about tech solutions. Currently, Fortinet has nearly 700 reviews across a wide range of product offerings.
Below are some of the reviews left by satisfied Fortinet customers regarding their experiences with our products, implementation, and support team.
"The implementation was on time, with the complete accomplishment of our objectives and in the costs. The product is excellent, high performance, and completely transparent for the users and applications."
"The service was great and the features provided everything we need to be PCI compliant."
"Very easy product to implement. User-friendly! Support very knowledgeable."
"Sales cycle, installation, utilization, and even service call needs went very well. Excellent Experience! Thanks to Fortinet!"
"Fortinet support is knowledgeable, reliable, and an extension of our team. Our Fortinet Account Manager is constantly in touch with us about roadmaps and any other changes. The Fortinet Engineer assigned to our account is always available to our in-house system engineers for a quick conversation or a site visit if necessary."
"The FortiSandbox provided the means to integrate with our FortiMail and FortiGate. The integration with the other Fortinet products was easy with the help of the local Fortinet SE. The regular use and upkeep is simple."
"The Fortigate solution has provided us with a greater level of protection as well as simple monitoring and reporting tools. The GUI interfaces are intuitive and management has been easy to learn and straightforward."
"These people have the best customer support I have ever seen."
"We have had a very pleasant overall experience with Fortinet since 2014. Our Fortinet TAM support engineers are always available for discussions, troubleshooting, or any other assistance. If we have an RMA case, a replacement product always arrives on time. We did about 10 code upgrades during the last three years and didn't have any issues during the upgrade process.
"It is often the case you hear of companies that have great products and hear of companies that have great customer service. It can prove to be difficult to find a company that manages to tick both boxes. Often the promise is there, however, at crucial times when things need addressing, customer or support services can be somewhat lacking. We are pleased to say that wasn't the case with our experience of working with Fortinet. As an outstanding school, we needed outstanding IT security to protect our users and protect our network, and the Fortinet Firewall presented itself as a solution worthy of our consideration. I had initial meetings with a number of different cyber security companies and various resellers, and Fortinet always came highly recommended. Admittedly, Fortinet as a company were new to me, however, after many recommendations, it quickly became apparent that Fortinet were a logical choice to provide our Firewall solution, so I made the decision to work with them on the project. As this was a big installation (I manage a network of over 600 computers, 200 mobile devices and 1200 users,) we needed to plan the project wisely and Fortinet helped us every step of the way. We outlined our objectives, our budget concerns, our expectations and our plans for the long-term future and we were assured from day one that we were getting the right solution for our needs. Once the install was complete, we did have some teething issues to contend with. Fortinet, and in particular our Account Manager, were excellent and worked with us closely to get things how we wanted them. As I mentioned before, it can be difficult to find the right product and the right level of support/customer service, however, thankfully Fortinet have got the right balance."
We're proud that we have been able to provide such a consistent level of service to educational institutions, while comprehensively addressing their security pain points. We encourage IT professionals in any industry to consult Gartner Peer Insights before making a decision on a solution to take the guesswork out of the procurement process.
You can read about the 2017 Gartner Magic Quadrant for Enterprise Network Firewalls report here.  We also invite you to take some time to learn more about the FortiGate Next-Gen Firewall and the Fortinet Security Fabric.
Gartner Peer Insights reviews constitute the subjective opinions of individual end-users based on their own experiences, and do not represent the views of Gartner or its affiliates.
Let's get a conversation going on Twitter! What is the biggest challenge Fortinet solutions have helped your school or education program solve?