Fortinet Recognized by Gartner as a Leader in UTM MQ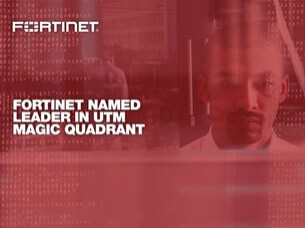 Fortinet has now been recognized by Gartner as a leader in their annual UTM (Unified Threat Management) Magic Quadrant report for nine years, with the highest placement for their ability to execute. Fortinet believes our leadership is attributed to our high volume of unit sales and our extensive portfolio of both security and networking solutions woven into our UTM solution. We've also received high marks in independent certification of security effectiveness and continue to foster close partnerships with leading channel partners and MSSPs around the world.
We believe Fortinet continues to be on the UTM shortlist of SMBs, whether they are looking for strong security features combined with wireless security, want to consolidate toward a single vendor for other network security needs, such as web application firewalls and SIEM, or where SD-WAN adoption is a critical use case.
SMB Security Needs Accelerating
A primary driver for UTM solutions is that the need for a range of effective security solutions for smaller organizations continues to escalate. The challenge is that many of the security and networking solutions available for Small to Medium-sized Businesses (SMB) don't provide the functionality, performance, or cost-effectiveness that today's smaller businesses require. While 96% of organizations saw a severe exploit in Q2 of 2018,[1] 39% of SMBs experienced more serious compromises than their enterprise counterparts.[2] In addition, during the first half of 2018, SMBs had an average of 1.23 active malware or botnet infections on their networks,[3] clearly demonstrating that far too many of them still have inadequate security solutions in place.
Fortinet foresaw and began addressing these challenges nearly two decades ago as the original developer of the first UTM solution. The hallmark of UTM devices is their all-in-one approach to security, making them an ideal solution for organizations with real-world security and networking requirements, but limited IT staff and resources. This unique approach was so successful that it became the template for today's Next-Generation Firewall market. Today, by combining next-generation FortiGate security with FortiAP and FortiSwitch unified access solutions, all centrally managed by FortiCloud (or FortiManager), Fortinet's UTM solutions continue to provide the most compelling value proposition for SMBs.
That value has not gone unnoticed. Fortinet is now the most trusted network security brand in the world, and according to IDC, is also the clear security market leader—shipping more units over the past five years than the next two vendors combined. And in addition to having now been recognized by Gartner as a leader in the UTM MQ for the ninth time, we believe Fortinet is also the most certified security vendor in the industry—earning a record nine NSS Labs recommendations in the last year alone.
Partners Are Central to Fortinet's SMB Success
Key to Fortinet's success is their strong partner program. The broad Fortinet portfolio enables partners to design and build custom security and networking solutions, while robust channel training, partner enablement, and demand-generation programs provide continuing support and opportunities for partner-led efforts.
With revenue growth, profitability, and cost reduction the top priorities for SMBs, it's no surprise that over two-thirds of them also choose to partner with managed service providers to handle some or all of their security and IT. And Fortinet is the hands-down preferred security partner for the MSSP community as well. Their strong focus on developing essential service provider-oriented features, such as centralized management, multitenancy, and administrative domains, combined with open APIs for back-end provisioning and custom portals, has enabled Fortinet to foster critical relationships with key MSSPs around the world.
Enterprise-class Solutions for SMB Budgets
For SMBs, purpose-built hardware continues to offer industry-best performance and value while consolidating networking and simplifying administration. Tight integration (and automation) of the Fortinet UTM solution into the Fortinet Security Fabric extends that protection and ease of use out to the endpoint and into the cloud with ease.
Conclusion
Unified Threat Management solutions often serve as the security and networking backbone of an SMB environment. Securing today's evolving SMB environments, however, also requires tying that UTM platform to their extended and continually changing networks and the evolving digital marketplace. Mobile users and smart devices, remote offices, multi-cloud environments, IoT adoption, and web-based applications and services require today's UTM solution to integrate seamlessly, and as effortlessly as possible, across a variety of networked environments—and Fortinet is the only solution able to meet those demands. Because of its broad portfolio, commitment to constant innovation, and sensitivity to bottom-line concerns, Fortinet continues to demonstrate its commitment to today's evolving SMB organizations through the ongoing development of its market-leading UTM and Security Fabric solutions.
Read more about the announcement and our history of innovation with UTM for SMBs. Also read the news release.
Access a complimentary copy of the Gartner Magic Quadrant for Unified Threat Management (SMB Multifunction Firewalls).