WatchGuard Integrates with Autotask PSA to Simplify Managed Security Services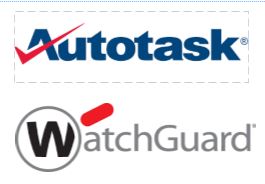 Available with Fireware 12.0.1, WatchGuard has introduced a leading integration with Autotask to simplify managed security services for our global base of mutual Channel Partners. Managed security service providers (MSSPs) using WatchGuard and Autotask can now benefit from closed-looped service ticketing and synchronization of their customers' asset Information.
Key Features
Integrated, Closed-Loop Service Ticketing — Track Issues with Service Ticketing Made Easy
Enable Autotask service tickets for WatchGuard security solutions.
Configure event thresholds on a wide range of parameters identified per device, including: security services, device statistics, and subscription statuses. Event thresholds automatically trigger the creation and closure of service tickets, closing tickets when issues are resolved, and reducing the number of false alarms.
Eliminate ticket flooding and provide trending visibility into customer security, because the same ticket reopens if the issue returns, rather than creating multiple tickets.
Auto Synchronization of Asset Information — Know a Customers' Security
Automatically register and update customer security asset information.
Gain visibility into customer security through automated synchronization with WatchGuard security appliances, including subscription start and end dates, device serial numbers, OS versions, and more.
Avoid a managed network going unprotected because of incorrect security service subscription end dates.
Learn more about this integration by visiting our Autotask Integration page, which includes links to an integration guide, demo video, and a solution brief. To view all of our available Technology Partner integrations, visit our Technology Integrations page.