Dell SonicWALL launches new updated TZ Series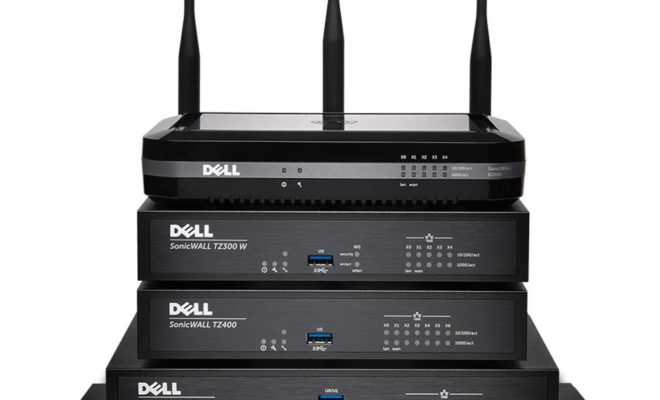 New Dell SonicWALL TZ Series is the fastest, small form-factor, business-class deep packet inspection firewall on the market
New firewalls designed to inspect SSL traffic and eliminate encrypted threats
With integrated 802.11ac wireless controller, the new SonicWALL TZ series combines with the recently introduced 802.11ac Dell SonicPoints to provide a complete wireless network security solution
Dell today announced the release of the new SonicWALL TZ Series firewalls. Featuring a dramatic increase in network performance to support faster Internet speeds, the ability to analyze encrypted SSL traffic, and an integrated wireless controller, the new solutions deliver enterprise-class security at a price point that is attractive for small businesses and large, multi-site distributed organizations.
Today, customers are overwhelmed by the sheer volume of network traffic and need security solutions that scale to meet ever-increasing broadband speeds, while fitting within their limited budgets. The new SonicWALL TZ Series is built around state-of-the-art, multi-core security processors to create the highest performance, desktop form-factor Unified Threat Management (UTM) firewall on the market with intrusion prevention speeds reaching up to 1.1Gbps.
The 2015 Dell Security Annual Threat Report shows that 60 percent of internet connections at the end of 2014 were encrypted using SSL. Disturbingly, with the growth of legitimate SSL traffic, cyber-criminals also have begun to hide their attacks from legacy network security products within SSL traffic. To counter this trend, the new SonicWALL TZ Series has the ability and the processing power to inspect SSL connections against the latest threats, providing an even higher level of security for Dell customers.
To accommodate the rapidly increasing proliferation of wireless devices, the tightly integrated, secure wireless controller in the new TZ Series supports the high-speed 802.11ac wireless standard. Combined with the recently introduced 802.11ac-capable Dell SonicPoints, the new TZ Series provides an ideal wireless security solution for both small businesses and large distributed enterprises.
While the new TZ series provides SMBs with world-class, enterprise-grade security features, larger businesses will benefit from the series' distributed enterprise feature set. The new TZ leverages the Dell SonicWALL Global Management System (GMS) to manage thousands of distributed TZ firewalls, enabling simple management of its Next-Generation Firewall (NGFW) feature set, including application control, application visualization, comprehensive reporting and world-class IPS.
Better security means better business
Offering 1GbE network interfaces in a compact desktop form-factor appliance, the Dell SonicWALL TZ Series delivers highly-effective anti-malware protection, intrusion prevention, content and URL filtering, application control, and secure mobile access for laptops, smartphones and tablets. With the SonicWALL Mobile Connect unified client, the new TZs provide secure mobile access to Google Android, Mac OS X, Kindle Fire and laptop users.
The patented reassembly-free deep packet inspection engine allows the SonicWALL TZ Series to scan every byte of every packet on all ports and protocols with almost zero latency. This technology eliminates bottlenecks and allows organizations to use security as an enabler, not an inhibitor. The graphical user interface in the TZ Series is easy to comprehend and eliminates the choice between ease-of-use and power by allowing rapid deployment and easy maintenance, thus driving down total cost of ownership.
View the new Dell SonicWALL TZ Series here – http://www.firewalls4now.com.au/dell-sonicwall/dellnetworksecurity/tzseries.html