Barracuda wins big for innovative email technology at SC Awards Europe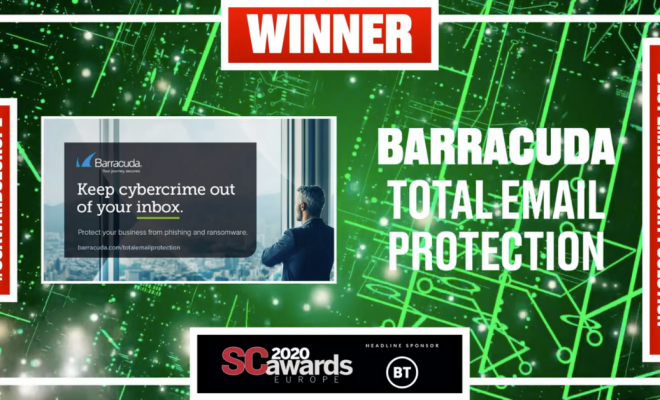 With remote working and security concerns high on the boardroom agenda across Europe, SC hosted its annual security awards ceremony over three days via a virtual event.
Having been nominated in four prestigious categories in total at SC Awards Europe, we at Barracuda are thrilled to have won two: the Best Email Security Solution award for Barracuda Total Email Protection, and the Best use of AI/Machine Learning award for Barracuda Sentinel, having beat out stiff competition such as Mimecast, Proofpoint, Agari and SentinelOne.
We also received an honourable mention for Best IoT/IIoT Solution for Barracuda CloudGen Firewall.
Best Email Security Solution
…For Barracuda Total Email Protection
We submitted our Total Email Protection solution in this category as it's our most comprehensive, impressive and diverse email security offering – providing multiple integrated layers of security.
Protecting enterprises and SMEs is imperative, especially in the current cyber threat climate, and Barracuda Total Email Protection is the most effective solution to prevent targeted social-engineering attacks. Its multi-layered approach combines a secure email gateway; AI-powered fraud protection; advanced security awareness training, and, a SaaS solution to automate investigative workflows and directly remove malicious emails.
Adopting this offering helps organisations simplify procurement, realise savings and avoid the integration chores, uncertain support, and risk that come with building their own solution using point products from unproven start-ups.
The judges were impressed by Barracuda Total Email Protection, with one judge stating: "Barracuda is the only vendor in the market today that provides all four layers of email protection: secure email gateway, inbox defence, security awareness training, and automated incident response."
"A very compelling entry here providing a great story as to why this is a top notch product," commented another.
A third judge said about our win: "Good AI-based solution, detecting targeted attacks. Another technology that provides employee training."
Best use of AI/Machine Learning
…For Barracuda Sentinel
The fact that we won in this vastly competitive category is a testament to Sentinel's utilisation of artificial intelligence to provide real-time defence against the most pressing security concerns facing businesses. These concerns include: business email compromise, spear phishing, account takeover, social engineering attacks, impersonation and other cyber fraud.
Whilst even the most sophisticated security software can't filter out all email attacks, Sentinel integrates with Microsoft Office 365 to learn your organisation's unique communications patterns in order to predict and prevent future attacks.
More specifically, Sentinel uses Office 365 APIs to directly integrate with employee mailboxes, enabling access to external, internal and historic mail flow in order to learn the behavioural patterns of each user to spot anomalies and then flag attacks.
We received glowing praise from the judges in this category, including:
"Attacks hit every organisation – What Barracuda do in this space is exceptionally important and offer a critical layer of email protection."
"Great content, great sounding product described using plain language."
"Excellent use of machine learning!"
Best IoT/IIOT Solution
…Highly commended for Barracuda CloudGen Firewall
We are appreciative of the high commendation received for Barracuda CloudGen Firewall, which is a family of physical, virtual, and cloud-based appliances that not only secures your network, but enhances your dispersed network infrastructure.
Put simply, Barracuda CloudGen Firewall also provides businesses with uninterrupted network availability and a robust access to cloud-hosted applications. It's therefore ideal for organisations with complex or dispersed network infrastructures.
SC Awards Europe are highly prestigious, and we are thrilled to not only have been nominated in four categories, but also to have walked away with two of the most sought after awards of the three-day livestreamed event. Moving forward, we can expect cyber security trends to fluctuate as the global situation changes, and we, at Barracuda, will continue to focus on high-tier security and email protection services, providing a bespoke experience for enterprises and SMEs of all sizes.