WatchGuard Dimension 2 and Dimension Command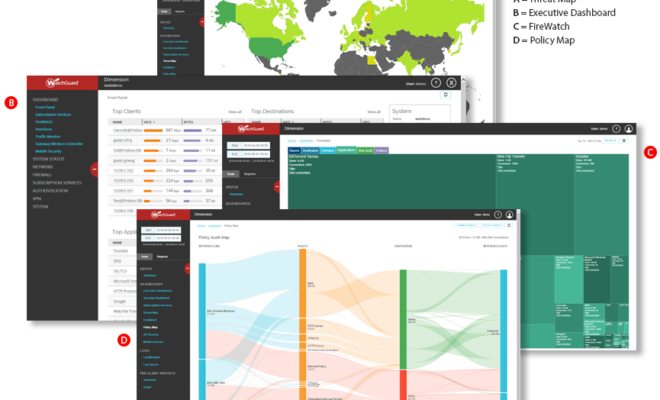 Dimension 2 and Dimension Command
WatchGuard is pleased to announce the General Availability (GA) of Dimension 2 and Dimension Command.
Dimension Command
With this release Dimension customers will gain access to a preview of the company's brand new Dimension Command network control features, designed to enable IT administrators to see threats and stop them instantly. Offering a preview allows customers to sample and benefit from new capabilities such as one-click configuration changes, the ability to 'jump back' to previous configurations, direct access to individual appliances through a web UI, and detailed system health reports.
Dimension is offered standard with all WatchGuard Unified Threat Management (UTM) and Next Generation Firewall (NGFW) appliances, with the purchase of the company's support service.  
Below is a list of enhancements made available with the release of Dimension 2:
One-Click Control of IP Addresses and Domain Names:  With Dimension Command, IT pros now have the ability to take immediate action to block IP addresses or domain names that are threatening their networks.  A single click and they're blocked immediately
Direct access to the firewall GUI, making it quick and easy to make firewall policy changes immediately
Health Reports: While it's critical to see threats, it's also critical to know that your network security systems are performing well and not at risk of failure.  Dimension Command lets you see your CPU, memory and physical interface usage at a glance and pivot and drill down as necessary to make adjustments
Configuration Histories: Policies are the brains of a firewall, and as soon as user spots issues, they can quickly scan recent policies and/or revert back to a previous policy
AP Dashboards and Reports
A new dashboard has been created for Access Points, extending the visibility into your wireless networks.
Managed VPN
Establishing a secure connection to the branch office has never been easier. Admins can now create and manage Hub and Spoke VPN tunnels within Dimension. VPN statistics are also accessible with one click.
Role Based Administration
New predefined and custom roles allow IT managers flexibility in assigning varying levels of access to the firewall and reports. Groups can also be assigned different levels of access. 
What else is new in 2?
Dimension 2 and Dimension Command are loaded with new features. The "What's New in Dimension 2" presentation includes a full description of all new features. 
Does This Release Pertain to Me?
The Dimension 2 and Dimension Command release applies to all Firebox and XTM appliances, except XTM 21/21-W, 22/22-W, or 23/23-W appliances. 
Software Download Center
Firebox and XTM appliance owners with active support subscriptions can obtain this update without additional charge by downloading the applicable packages from the WatchGuard Software Download Center. Please read the Release Notes before you upgrade to understand what's involved. Known Issues are now listed in the Knowledge Base when logged in at the WatchGuard website.
Contact Information
For Sales or Support questions, you can find phone numbers for your region online. If you contact WatchGuard Technical Support, please have your registered appliance Serial Number or Partner ID available.