Fortinet – Fostering Collaboration and Intelligence Sharing at Accelerate 2018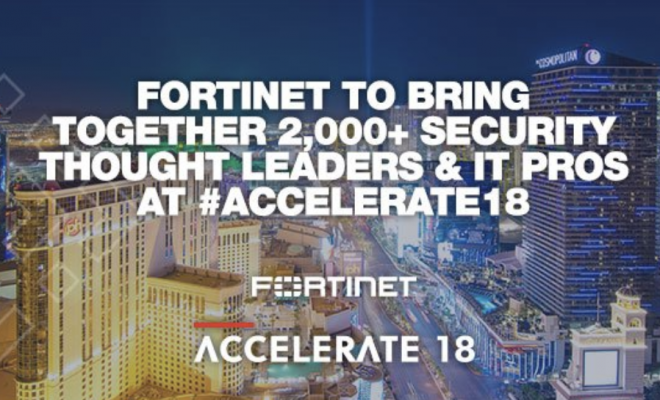 Fortinet's upcoming Accelerate conference in Las Vegas will bring together customers from across industries to participate in breakout sessions, technology demos, networking events, and more. The wide swath of industry backgrounds that will be present at this year's conference poses a unique opportunity for discussing and solving today's most challenging network security issues.
Fortinet regularly works with education, financial, and healthcare IT professionals on determining solutions to fit the specific security needs of their industry. Examples include securing connected medical devices, fintech partnerships, or the open networks used at educational institutions. However, with professionals from each of these backgrounds present at Accelerate 18, we at Fortinet, as well as fellow attendees, are also in a unique position to learn from each other how to best tackle big picture technology trends affecting all verticals, based on unique industry experiences.
There are a few trends that have been so pervasive they affect healthcare, education, and financial IT professionals equally. These include changing leadership roles, digital transformation, and of course, a growing number of cyberattacks.
As a result, we have planned a number of keynote sessions being presented by thought and technology leaders that address these big picture trends. Our goal is to provide attendees with information on how to navigate growing cyberattacks in the age of digital transformation, thereby fostering discussion between professionals that yield new, innovative strategies and solutions.
Here are four specific keynotes that we believe will assist in achieving this goal. The complete list of keynotes and breakout sessions can be found on the Accelerate site.
Digital Transformation 
Digital transformation is affecting all industries, with 55 percent of companies declaring their intentions to adopt a digital transformation strategy within a year. Accelerate 2018 will host two keynotes on the topic of digital transformation, and how organizations can benefit from digitization while remaining secure.
Cybersecurity Fundamentals in the Age of Digital Transformation
This session will look at the balance that must be struck between cybersecurity and digital transformation initiatives. Organizations are forging ahead to embrace the digital economy and the many business and profit benefits it brings. However, they are also opening themselves up to substantial digital risks. In this session, Fortinet customers will learn about the security infrastructure that is critical to protecting sensitive data at the speed of digital business. Customers who attend this talk will come away with a far-reaching strategy for securing their networks, incorporating authentication, resiliency before and after a breach, internal threats, and more.
Fortinet—Unlock Your Digital Transformation
With a strategy in place, this next digital transformation session addresses the specific technical infrastructure updates that must be made in order to keep pace with digital transformation. With critical workflows moving to the cloud, the proliferation of IoT devices, and the increased use of applications, traditional point solutions are no longer adequate security measures, especially with regulations such as GDPR taking effect. For comprehensive protection and compliance in the digital age, IT teams must adopt IT operating models built on automation, agility, and analytics. This session will examine how an integrated, architectural approach to cybersecurity enables digital transformation.
The Changing Roles of Cybersecurity Leadership
As digital demands grow among employees and customers, security leadership is put in the challenging position of enabling innovation while also footing the huge responsibility of stopping frequent, sophisticated cyberattacks. Fortinet aims to help CISOs across verticals successfully adjust to these new demands.
Next-Generation CISOs: Master Commanders or Adrift Without a Paddle?
This CISO panel will be hosted by Jonathan Nguyen-Duy, VP of Strategic Programs at Fortinet, and will feature Renee Tarun, Fortinet's VP of Internal Security, Kevin Kealy, CISO, Ingram Micro, and Daniel Hooper, PIMCO's Global CISO. This discussion will look at how CISOs working across various industries can incorporate cloud adoption, DevOps, and applications into their organization – all while contending with the growing cybersecurity skills gap – and still move IT security forward. The panel will address common challenges such as: how to align security with business priorities, effective risk assessment strategies, how to build and maintain security talent, and how to ensure defense-in-depth and compliance.
This session will provide valuable insight into how different industries are responding to these challenges, while giving attendees ideas for how their own organizations can successfully adapt to the evolving threat landscape.
A Growing Number of Cyberattacks
The increasing volume and sophistication of cyberattacks is a reality for every vertical. In 2017, we saw attacks such as WannaCry affect healthcare providers, schools, and financial services firms at scale. Regardless of industry, cybercriminals are leveraging new technologies to find entryways into your network.
Universally Applicable—Fortinet Security Fabric Used by Organizations Large and Small
This panel includes Peter Keenan, Chief Information Security Officer at Lazard, as well as Erik Devine, Chief Information Security Officer at Riverside Healthcare, and Brian Talbert, Director of Network Connectivity Solutions at Alaska Airlines. These three experts in the cybersecurity field will examine the effects that the expanding attack surface, both horizontally and vertically, is having on IT teams and budgets. It will then look into the advanced technologies that cybercriminals are adopting to make their attacks more effective, including machine learning and artificial intelligence. It will also explore why these organizations have chosen the Fortinet Security Fabric to keep their business a step ahead of cybercriminals. Those who attend this session will learn how the automation and integration leveraged by the Security Fabric have worked to mitigate advanced threats across industries.
Final Thoughts
The goal of Accelerate is to bring our customers and team members together to share information and find creative solutions to today's security challenges across industries. These keynotes addressing major industry trends promise to do just that, bringing together professionals from across verticals to collaborate with each other and with Fortinet.
Come share your ideas, discuss the future of cybersecurity, and learn from the best in industry, at #Accelerate18.