FortiGate NGFW Consistently Delivers in NSS Lab's 2018 DCSG Group Tests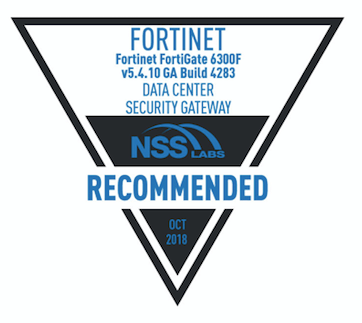 NSS Labs recently introduced the industry's most comprehensive test for data center network security gateway (DCNS) devices. NSS Labs DCNS covers two group tests that include DCIPS and data center security group (DCSG). Both group tests thoroughly examine devices in the areas of security, performance, and total cost of ownership (TCO) and characterize them based on security effectiveness.
For the 2018 DCSG and DCIPS Group Tests, NSS Labs expanded performance testing to include different types of traffic profiles – "transactional, multimedia, and corporate real-world" – to align with various industry types and evolving needs of modern data centers.
As part of our ongoing commitment to the independent and fact-based testing and evaluation of FortiGate solutions, Fortinet participated in the 2018 DCSG and DCIPS group tests with FortiGate 6300F and FortiGate 3200D, both earning an NSS Labs "Recommended" rating for DCSG and DCIPS. The results show FortiGate delivered the highest performance and lowest TCO value for per protected Mbps among the participating products.
Customers Continue to Prefer Fortinet's High-performance NGFWs for Data Center Security
Large organizations have complex networks that require scaled segmentation and high-performance content inspection capabilities. For example, a large education network provider in North America recently selected Fortinet's line of high-end FortiGate firewalls to offer a scaled multi-tenant and high-performance data center threat protection solution to protect affiliated schools and libraries from cyberattacks. Additionally, a large broadcast company in the Pacific region wanted to reduce network complexity and resource overhead by consolidating corporate and broadcast data network traffic on the same physical device, and selected Fortinet to offer high performance threat protection using scaled segmentation in the data center.
FortiGate 3200D and FortiGate 6300F are core members of the Fortinet Security Fabric and are designed to dynamically share and correlate intelligence for a faster response to threats and enable end-to-end visibility and threat protection.
Learn more about Fortinet's high performance NGFWs: FortiGate 6000F and FortiGate 3200D
Fortinet's commitment to third party testing and validation has resulted in Fortinet solutions earning NSS Labs Recommended ratings across nine different group tests. Learn more here.